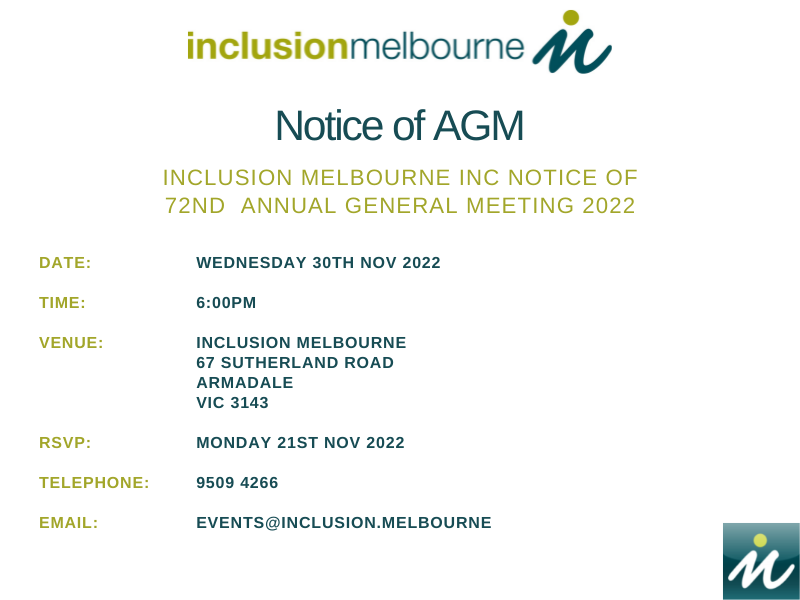 Yours faithfully


Carmine Laghi
Acting Chief Executive
Volunteer Information sessions
---
Current as of September 2020:
Covid -19 Restrictions are still in place
If you are interested in becoming a volunteer with Inclusion Melbourne you are advised that we are unable to hold face to face Volunteer Information Sessions at the present time.
However, we would kindly ask that you email us at volunteer@inclusion.melbourne to arrange for a presentation to be sent to you via email.  Then, if you wish to proceed, a time for an interview using Zoom or over the phone can be arranged by Community Support staff.
Please be aware that screening processes will apply and ALL positions at Inclusion Melbourne require a minimum volunteering commitment period of 12 months. Please note that every effort will be made to match you to a volunteer position in your local area and community.
As bookings are essential, please confirm if you are able to attend by emailing volunteer@inclusion.melbourne or by phoning 03 9509 4266 during business hours.  Don't forget to provide a contact number!
The ARMADALE sessions are held at our office located at 67 Sutherland Road, Armadale
If you are driving, please note that we do not have on-site parking, and to be aware of street parking restrictions before 6 pm. For public transport users, Armadale Station & the No 6 tram (Stop 40) on High Street are close to our office.
The SUNSHINE sessions are held at The Visy Cares Hub, 80b Harvester Road, Sunshine. If you are driving, there is a large car park adjacent to the building, and Sunshine railway station is a relatively short walk away.