Staff Portal
---
Welcome!
This page hosts useful links for our staff to access information and systems.
Wellbeing
Our employee's health and welbeing is important to us, especially in our current environment, where many people are experiencing difficult times.
We have a number of resources to share with employees, offering tips on managing stress, building resilience and how to have conversations about our mental health.  Visit the Wellbeing page on the Staff Hub (via SharePoint)
Inclusion Melbourne have a connection with the Delta Centre to offer an Employee Assistance Program (EAP)
This is a free service for staff who wish to speak with a professional counselor, about work-related, or non-work related issues which may be affecting their mental health.  This is a completely confidential service and can also be offered to immediate family members.
Visit our wellbeing page on the Staff Hub to access a webinar on resilience in the workplace, presented by the Delta Centre.
Staff Discounts
All our employees are able to enjoy discounts from several leading Australian retailers and some of our favourite brands: Woolworths, Myer, Harvey Norman, JB Hi-Fi, Amazon, Hoyts, Iconic and more!
Staff also have access to Flare Cars, a modern novated leasing program that helps you unlock significant savings on your car – whether it's new, used or even the car you already drive.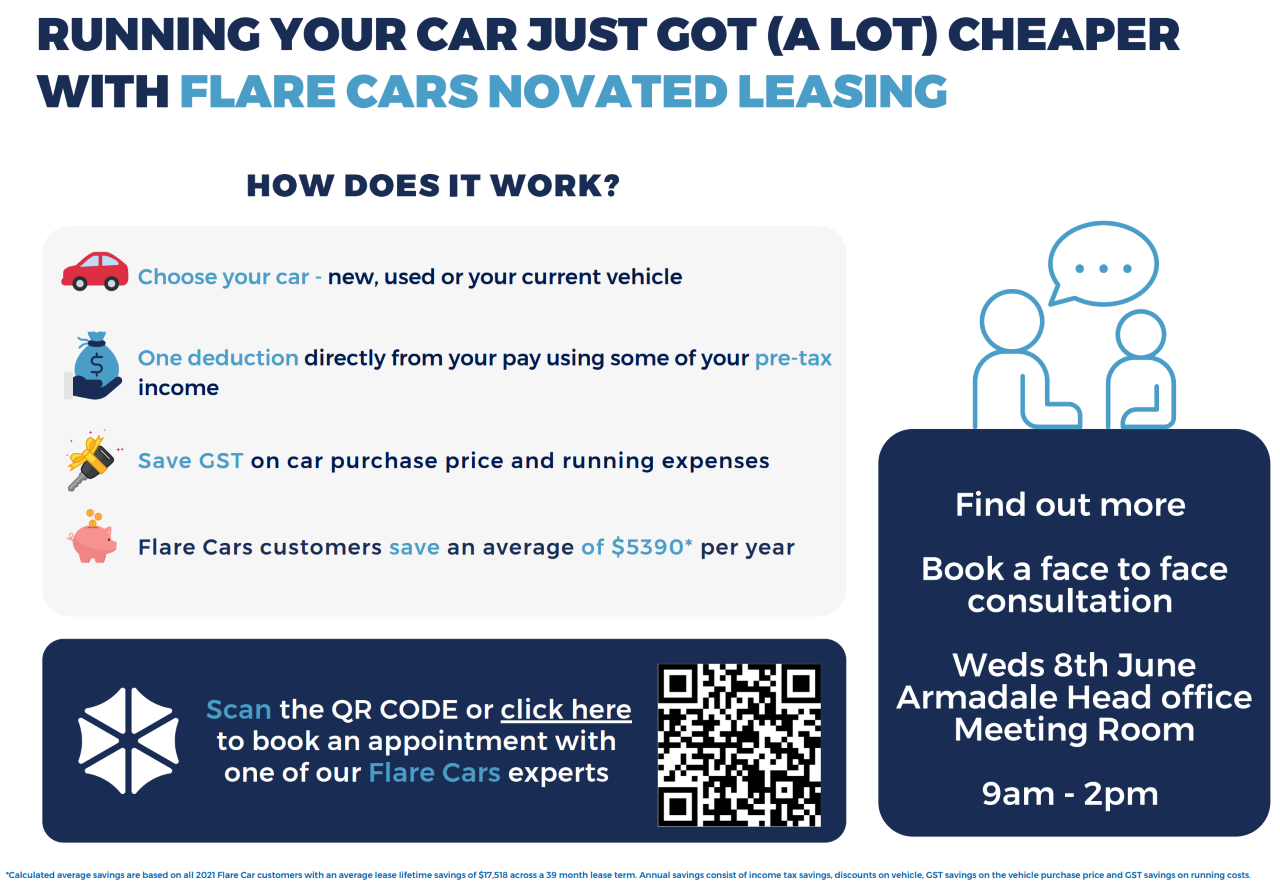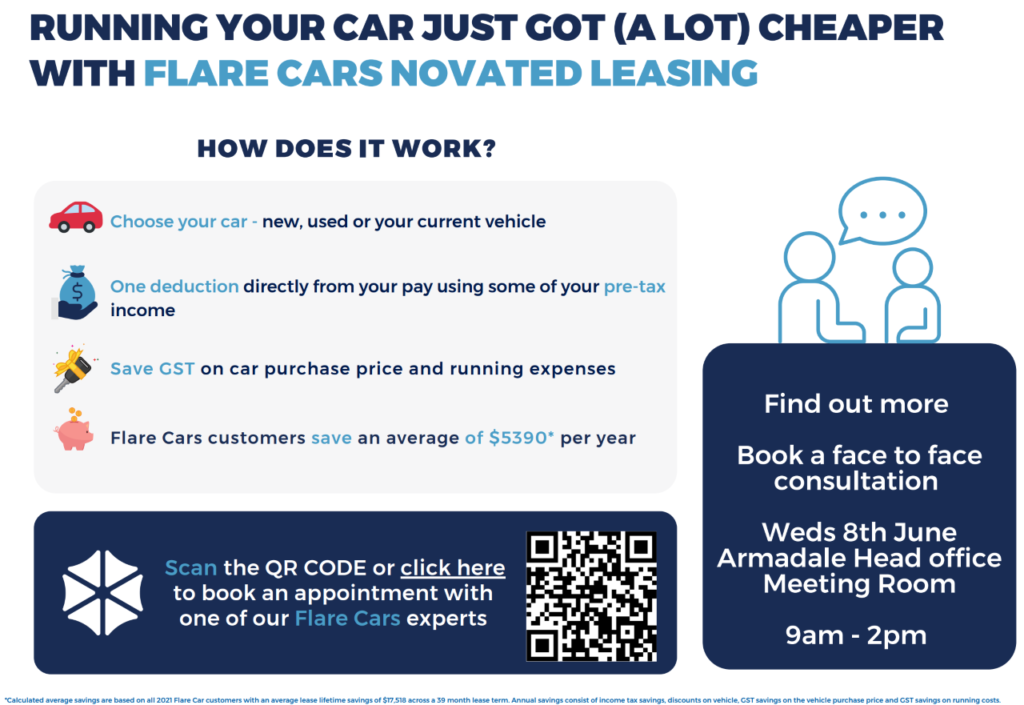 For a 1:1 consultation to discuss your options, make an appointment here.
Join Flare Cars for a full run-through of what is novated leasing and how it could save you thousands every year! What you'll learn: What is novated leasing? How it works with your pay? How novated leasing shapes up against private buying. What's included in your lease? 6 reasons to get a novated lease and end of lease options available to you.
Intranet
Hosted within the Microsoft Office 365 suite, you can access our SharePoint intranet site; STAFF HUB, where you can keep up to date with the latest news and announcements, events and access key information.
DOCUMENT CENTRAL, where you can access all our policies, procedures, forms and resources.  You will also be able to view the mandatory reading for your role, just click on the tile relevant to your position or department.
Other information available through the STAFF HUB: our organisational calendars, Employee Assistance Program details and staff directory.
This site is secure and for Inclusion Melbourne employees only.  You will need your login credentials to access this site.
Staff Hub and Document Central Guide
Salary Packaging
Inclusion Melbourne use AccessPay to manage our employee's salary packing arrangements.  They also offer novated leasing to permanent employees.
You can login to your AccessPay account here or visit their website for more information.
Find out about the new AccessPay App here or download the flyer here.
Emails
For those with an Inclusion Melbourne email account, you can access your emails via our Microsoft Office 365 suite.
HR3 Kiosk
Log into your HR3 Kiosk to:
Access your Payslips
Apply for Leave
Update your Contact Information
Salesforce/Lumary
Our client relationship manager; Lumary, is best accessed via the Lumary mobile app.   However, you can also log in via the link below.
Skedulo
Log into Skedulo to access your rostered shifts, accept and decline shifts, as well as start and end your shifts electronically.  Skedulo is best used in the mobile application which can be downloaded and accessed via your mobile device.
Yammer
Access Yammer to communicate with other DSP's who are supporting the same people as you, or who are in your Regional Group. This is a platform for us to ensure that supports are consistent as possible, and allow us to work effectively towards supporting people to meet their unmet needs as well as achieving their dreams and goals. Regional Groups are also a place to share with DSP's the wins and achievements that are happening on supports, as well as in people's lives, and also a place to get advice from your peers.
Incident Reporting
You MUST discuss any participant incident with your supervisor and complete a form.  This form can be completed by any employee or volunteer of Inclusion Melbourne to record a participant incident.  The information recorded in this form will be used to produce a formal report to the relevant department/body/commission.
---