Volunteering in Melbourne and National Volunteer Week celebrations
'Volunteering is time willingly given for the common good and without financial gain.'
Peak body Volunteering Australia considers volunteering as 'part of the wider concept of civic participation but also lists a number of somewhat similar activities or areas that are outside of formal volunteering. These may also act as pathways for people to become volunteers.
The term 'volunteering' covers a wide diversity of activities in Australian society. It includes formal volunteering that takes place within organisations (including institutions and agencies) in a structured way and informal volunteering which includes acts that take place outside the context of a formal organisation.
While the vast majority of volunteering is undertaken by individuals, entities also donate employee time, and this is included within this definition of
volunteering.
Here are a few points about volunteering from the Volunteering Australia website:
It is without financial gain but Volunteers can receive reimbursement for out-of-pocket expenses.

It is for the 'Common Good' which aligns with the United Nations view that volunteering 'should be for the common good. It should directly or indirectly benefit

people outside the family or household or else benefit a cause, even though the person volunteering normally benefits as well.' Volunteering is often considered as

contributing to community well-being and volunteering activities cover all sectors of society.

Activism can also be considered volunteering. This definition is aligned to the current UN position on volunteering that states: 'When people participate in peaceful activism, for or against animal research or building of a dam, both sides seek what they consider to be beneficial outcomes'.
Inclusion Melbourne, formerly known as Gawith Villa has a rich history of supporting and encouraging volunteering, starting with the Leisure Buddies program in 1998 and continuing to this day.
We also have a current volunteer Board Member Bob Crosthwaite who commenced in 1995! At present Inclusion Melbourne's Community Support team recruits
and coordinates volunteers who give their time within six different volunteering positions:
Board Members, Community Visitor Scheme (CVS) volunteers, Counsellors, Leisure Buddies, Project/Admin. Volunteers, and Tutors.
2022 marks the Community Visitors Scheme's 30 year anniversary! 30 years of matching volunteers with older people who experience isolation and/or loneliness. Inclusion Melbourne has had the privilege of delivering the Community Visitors Scheme since 2014
Here is a very special and personal story from an Inclusion Melbourne Volunteer…
Featured today is a photo of Sam and CVS volunteer Boudie after having lunch together. 
In Boudie's words: "In the past couple of months we made it a habit to share a meal with Sam every time that (fellow volunteer) Daniel and I visit him.  We order burger or pizza at Sam's request, and then sit and chat with him. It's a pleasure to know Sam; he's a very cheerful and charming person! Everyone who comes his way easily "falls in love" with him, and tries to help him as much as they can. He always says a joke and makes us laugh. He also always refers to us as his sons, and we think of him as a grandfather. Although at times it was hard to visit him, but still a phone call between us always puts a smile on my face".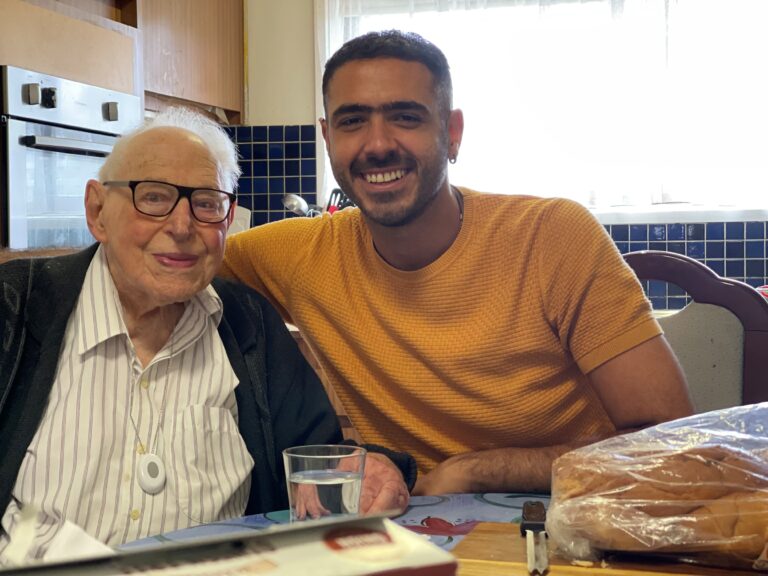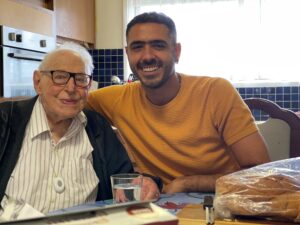 IM Blog
Happy #NationalVolunteerWeek 16-22 May
Interested in getting involved in Inclusion Melbourne's CVS program?
Details can be found on the Inclusion Melbourne website inclusionmelbourne.org.au